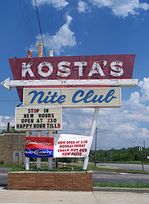 Bob Cox and Friends had a great time this past Thursday night. We played for Kosta's twenty-first anniversary party. Kosta's is located on W. 4th St. in Mansfield, Ohio.
The weather forecast was for ice or a wintry mix followed by heavy snow. When the gig was over, we still hadn't received any of it. However, early Friday morning (as you know!) the snow hit the proverbial fan.
In any event, we had a great time and so did the people in attendance. We are looking forward to playing at Kosta's this summer on the patio. We hope to see you there then!
So again, happy anniversary to Stevie and everyone at Kosta's! Thanks for having us!