Bob Cox plays in a variety of musical situations. In  addition to playing solo guitar, he is a member of the classic-rock group The Caffiends based in mid-Ohio. 
The Caffiends are a great choice for your musical event. Together since 1999, they have played many, many corporate events, community concerts and festivals as well as private parties. You may contact us via the contact tab at the top of the page. 
Listen to a live audio clip of The Caffiends playing Green River on the player at the bottom of this page.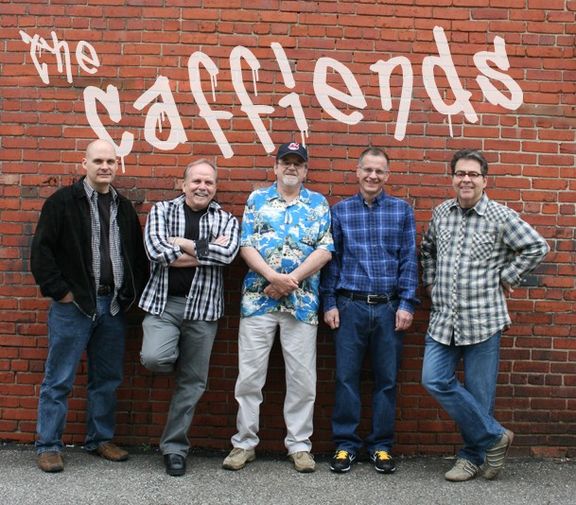 left to right: Sam Beatty Dennis Eggerton Bob Cox Jim Smith Dean Kastran
Robert Cox - Doctor Robert - FSGP
I am a retired adjunct professor of guitar and guitar related courses at Kenyon College, Mt. Vernon Nazarene University and the Richland Academy in Mansfield, Ohio.
My musical passion has always been creating arrangements for solo finger style guitar. I find the creative challenge very rewarding. You learn so much in the process.
I started playing guitar in the 60's, like many kids did, after hearing The Beatles! Before that, I played the piano and ukulele. My mother and father were musicians. So, music was always being played at home.
I have been influenced by many guitarists and other instrumentalists in a variety of styles. I love the styles of Chet Atkins, Jerry Reed, Merle Travis, Tommy Emmanuel and a host of others. I also love listening to and playing as many styles as I can. I enjoy creating arrangements for any style or any song, really. However, I still consider myself a pop guitarist. 
Bob Cox and Friends can be anything from a duo with keyboardist Dane Noe to a trio, a quartet, and up to a seven, eight or nine piece band.The groups play an eclectic mix of music, featuring classic-rock, smooth jazz and rhythm and blues.
Listen to a live audio clip of Bob Cox and Friends on the player at the bottom of this page.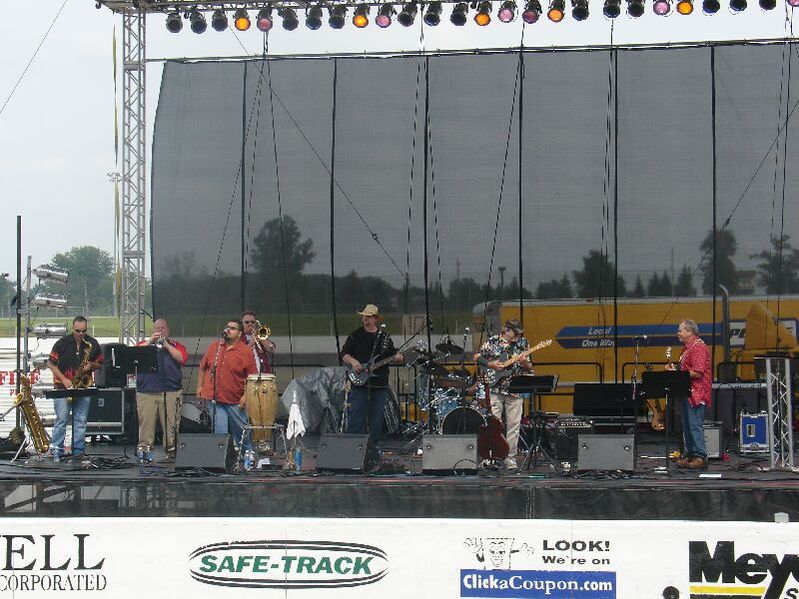 July 4, 2008 Mansfield Bicentennial at Mansfield Raceway - left to right Eric Snyder John Ruth George Paez Damian Boyd Buzz Kilgore Bob Cox Dennis Eggerton - not pictured - Brian Vanderpool
 We'd be happy to provide entertainment for your event. For information about pricing and other details, please use the CONTACT link and I will be happy to talk with you. I guarantee your satisfaction!
contact:rcox51@neo.rr.com